I have just arrived home after about two weeks spent in Rīga, where we were hosting this year's European Perl 5 and Perl 6 conference.
The organisation processes started a year ago, and by we I mean myself and my business partner, who joined about 7-8 months ago.
PerlCon is an annual European conference dedicated to the Perl programming languages. This is the main European event; it travels between different European cities, and this year it was its 20th edition.
Usually, a different team steps up to organise an event at their country. But due to my enthusiasm, this was my third event in Rīga, and also the third PerlCon in its 20-years history that I have organised.
It is worth noting that I've been living in Amsterdam, and the conference took place not only in a different city but also in a different country. Although a significant part of communication with the third parties was in English, choosing Latvia as a host country gave us a bonus that we can speak a local language that is widespread in the country, which made a lot of things easier. But still, remotely organising an event for 200 people is a difficult task by itself even in the XXI century with beautiful electronic means of communication. Nevertheless, it is a lot of joy and pleasure.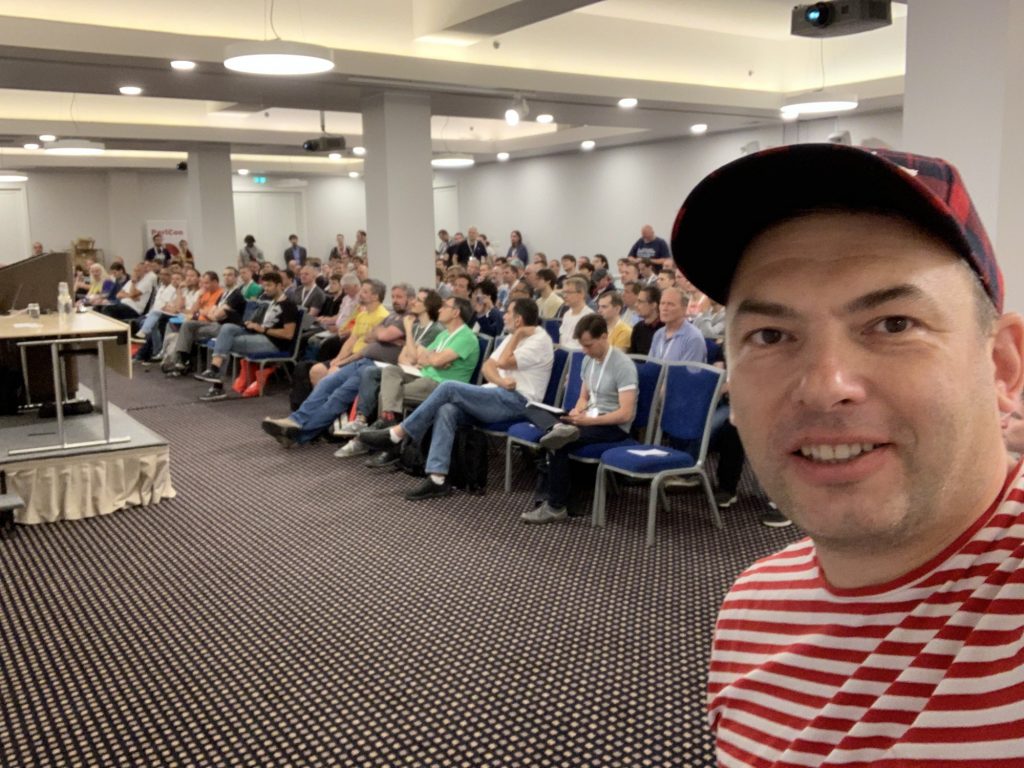 Historically, this conference is organised as a volunteer-based event, and the conference tries to make the ticket prices as low as possible. We made it professionally and applied business approach from the day 1. All the economics was precisely calculated based on the data from the previous conferences and our estimations of the number of people, the distribution of tickets of different price plans, income of sponsors, etc.
For example, we introduced five different ticket plans: Minimum, Basic, Standard, Extended, Business, and Business+Hotel. The different plans offered different services such as catering and hotel accommodation.
We also made a quite extensive web shop that made it easy for everyone to buy the best ticket and to order additional items, for example, extra dinner for a partner, or an extra T-shirt, or simply reserve a room at the hotel. Not to mention that it allowed the attendees to receive instant confirmations and for us to avoid a lot of manual work.
During the preparation, we faced a few significant obstacles that we successfully solved. One of them being an unexpectedly popped-up Rammstein concert on the day before the conference. When we were discussing a conference a year ago and were choosing the date, there were already some events known, such as the so-called Rīgas svētki (celebrations of the Rīga city), and I believe it was already known that there would be the European youth triathlon in August that is based on the same hotel where we have the conference. So, we chose the dates when both the city has no events, and the hotel has enough rooms available. The open-air Rammstein concert for 40,000 people ate all the rooms in the whole city and surrounding area up to 100 km from Rīga, and the remaining room nights were selling at the price of €500 and more (imagine a hostel bed at €150 a night). We had difficult times to fight for the rooms for our attendees at reasonable prices.
We have also were working hard to find the best keynote speakers, and due to different circumstances, we had to replace two of the three keynote speakers, both with very late notice. In the end, the program was even more interesting and useful than it was originally thought.
One of the pleasant 'problems' was the number of Perl 6 talks, as there were so many of them that it was difficult to put them all in the schedule so that they do not intersect. Seriously speaking, it is a good indication that the interest to Perl 6 increases, and it would very likely happen next time that it will be even more Perl 6 talks and they will have to clash in the schedule.
Having all the problems solved behind the scene, we managed to make a very smooth conference that everyone seems to enjoy.
Below is the list of numerical facts about the conference.
Some facts in numbers
1 year of preparation
540 man-days of 2 organisers
Before we found the venue, we were considering
3 countries
5 countries
77 hotels and conference centres
Found the best venue: Radisson Blu Daugava, Rīga, Latvia
Conference website
Built from scratch to replace Act ('A Conference Toolkit' developed earlier)
Online since January
10,000+ lines of code
700 git commits
Using Perl 5 and XSLT
Planning
6 months working on the conference program
Profit & Loss calculations
Forecasting
7 business trips to Riga
2473 e-mails
25 hours of phone calls
Entertaining program
7 social activities prepared: Pre-pre-meeting, Pre-meeting, Cocktail Party, Beer Party, Attendees Dinner, River Cruise, Game Night
6 third-parties involved
Accommodation
100 rooms for the attendees
120 attendees staying at the venue hotel
Special discounted prices for the guests
Breakfast included
Free room cancellation
4.5 nights average stay
450 nights in total
Program
3 tracks
35+ speakers
58 talks
30+ talk promotion videos
200 attendees from 20 countries
23 sponsors
Originally published on LinkedIn.